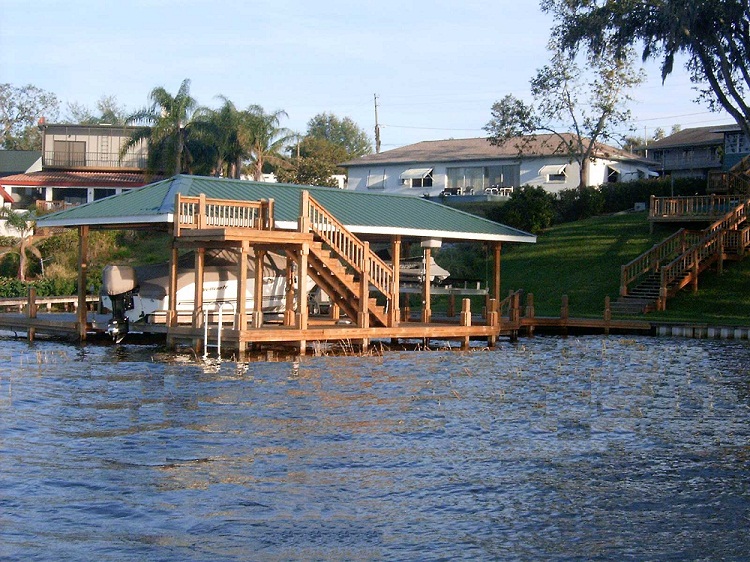 DOCKS We build docks and other various types of outdoor structures all over Highlands county. You can see our work on Lake June, Lake Istokpoga, Lake Clay, Lake Josephine and numerous other locations including private estates.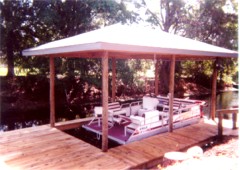 BOAT HOUSES From standard to custom designs we can build your new boat house. Single stall, dual stall, pontoon boats, bass boats or personal water craft, we can accommodate them all. Our experience and expertise can solve almost any problem or difficult location situation. Prior to construction an inspection will be done to determine the feasibility of building on your site.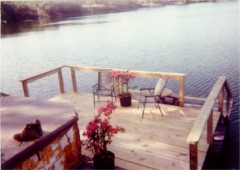 DECKS AND DOCKS We construct docks with elevated decks. Multi-level surface and veranda decks are also an option to consider.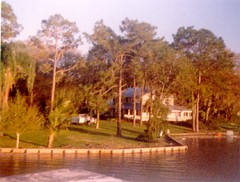 SEA WALLS are built with pressure treated wood, vinyl, or aluminum. Various cap arrangements can also be selected.. Pressure treated wood construction is pictured on the right and vinyl below.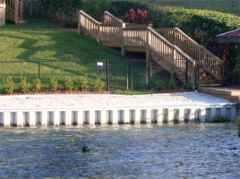 Vinyl Seawall with aluminum cap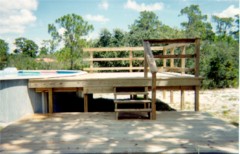 POOL DECKS for above ground pools, tree houses for the kids or grand kids, just about any kind of specialty construction you can think of we can do.
---
SPECIALTY CONSTRUCTION
RETAINING WALLS Terraced land areas can be created with appropriate retaining walls to avoid erosion and to add esthetic improvement.
TREE BOXES placed around those majestic Oaks or Palm tree groupings add a delineated space for the gardener to place those beautiful annual flowers.
ARBORS / TRELLISES are another feature for the gardener to plant those climbing plants and/or an arbor to hang those orchid plants from. Large and small - we do it all.